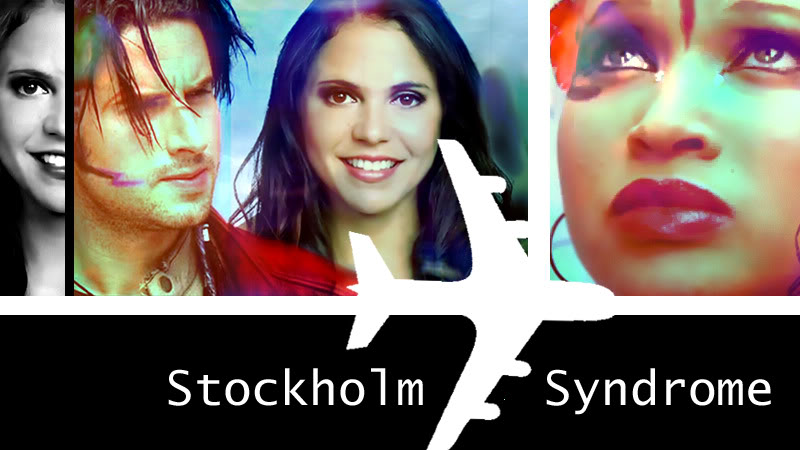 Hello darkness, my old friend,
I've come to talk with you again,
Because a vision softly creeping,
Left its seeds while I was sleeping,
And the vision that was planted in my brain
Still remains within the sound of silence.
Written by: Nemesis
Chapter 1 – The Twist (Ebony)
Wishing someone good luck always felt like a weird thing to do to me. If you mean it, that is. Anything can be used to deceive or ensure a commitment, and I think that's what is happening here.There's no such thing as luck, or simple misfortune, if you know how to play your cards right. More or less a given thing? Not so much. Watching Ruby giving her best to her beloved ex isn't her own luck turning, it's simply an opportunity to gloat for the new woman at his site. And that would be me.
I don't mean to be cheesy here, but Slade seems like the guy for me. He has all the qualities I like in a man, looks, attitude, capabilities, and he's proven that he prefers a wild cat over a tame one anyday, no matter to which desperate lenghts my predecessor goes to next.
She's pretty. Ruby. Not in a sense of comparing myself to her, but it can't be about looks that Slade chose me. He's been intrigued since the second he layed eyes on me, and maybe that's what I like most about him. I can see what he wants, who he wants and why. No power play, no Trudy, no Amber in this relationship, which is, believe it or not, a huge improvement.
Doesn't this woman look at herself? Why is she so desperate?
Slade doesn't talk much, while we're waiting for the reported transporter to appear. There's a sound of a motor, but it still seems too far away to get ready for an attack. We put one of our allies in Ram's Techno uniform on the street, instructing him to just lie there and pretend to be wounded.
"Do you think this will work?"
"Sure." He takes the baseball bat into both hands as the motor gets louder and louder. A truck appears, one off the smaller ones with planes. The big Techno logo is printed on both doors of the driver's cabin. Slade smiles at me, and it's a great, powerful feeling. Warm. Exciting. "Are you ready?"
I return his smile. "Never been readier."
The truck slows down. The driver seems to discuss getting out of the car with the guy on the passanger seat for a few moments. The result: They both get out. Idiots! How is this tribe still so powerful, if they fall for every little trick?
It feels weird to wear Java's zapper. Weird and wrong, in so many ways. But it's not like I had a choice, if I didn't want to take Ram's and that would have been a piece of work. For a moment I wonder why Slade was so determined to make me wear it for some prisoners he doesn't even know, when he's shown so much decency towards my mourning over my sisters. But it's not like I have time to sit around and feel guilty or sorry for anyone right now.
I raise my arm, swallow down the unpleasant, unavoidable de-ja vue and fire the electronical weapon at the first Techno, then the second, before he can shoot me or Slade. When no other Technos get out of the car, I give Slade a nod. We approach the back of the truck slowly, carefully, zapper ready, just in case and I take the keys off of the dead driver. Slade might just think they're unconscious, or he doesn't care about some Techno's life, but right now I don't care either way. I can't have one of them waking up again, and Mega needs to get the clear message: Don't mess with me!
When Slade lifts the tarpaulin, I feel almost disappointed for a second. It's just one girl, handcuffed to the car. She blinks at us in confusion, her dark hair hiding most of her face. But even though she's wearing ragged clothes, through the dirt on her hair and skin, there's something vaguely familiar about her.
"The keys", Slade orders, his voice shaking, but determined. I'm too surprised to do anything but drop the keys into his open hand. He climbs into the car, says a few words I can't make out to the prisoner and unlocks her cuffs. She doesn't give an answer, just throws her arms around him like a drowning person. There's a weird sensation in my stomach, when he doesn't pull away, but takes the girl into his arm to comfort her. A feeling I've known before and thought I left with leaving guys like Bray and Jay. Slade's mine. She must be grateful, but she'd better back off.
"We should get going", I remind Slade, and he nods, helping the girl up.
"I don't think she can walk, we should take the truck back to Liberty."
"And get everyone to panic?" Since when is Slade so caring about strangers? There's something in his voice I don't like at all. He helps her out of the truck, while her arms and legs are violently shaking. The red markings on her wrists are a sure sign that she wore those handcuffs for a while.
I see now why Slade was so concerned: the torn clothes show a good amount of skin, and this girl's body is more impressive than Ruby's must be to him. She has an exotic look about her, and the face under all the long black hair must have impressed Slade, too.
She lets her fingers run through her hair, strokes it out of her sweaty, dirty face and I need a moment to recognize Moz as the girl who's clinging on to my boyfriend. It's a small world, really.
Slade disappears into a cloud of caring and cooing over Moz, the minute we reach Liberty. He doesn't even let her walk by herself, and she seems weak enough to let him treat her as a damsel in distress. The Moz I know would have yelled at Slade for ten minutes by now and then tried to locate some kind of weapon, to give her message more emphasis. Or would she?
Seeing her like this… How well do I know Moz? I know who she hated a few months ago (almost everybody), I know who her friends were and I had good instincts as to how she would react to certain things. But I don't know her well enough to say Slade's not her type. Actually, I don't even know if "Moz" is her real name, or if it's just something she made up to be the ultimate Mosquito, which is just as likely as Moz being short for Monique or some other name.
Ruby seems unaware of the attention Moz is getting from Slade. She's just busy cooking her some idiotic soup to get back on her feed and fetching towels, blankets and spare clothes from her own closet. Anything to please Slade. No wonder he never got serious with her, she's just too easy to use. Does he actually think I'll go along with this that easy?
Nobody answers Slade's door, when I knock. After a few seconds, I can hear him call something in a breathless voice: "In a minute!"
I don't wait for him to open the door. The first thing I see is Moz on his bed, a baby-blue bathrobe is the only thing she's wearing. Her long hair is as wet as her neck and legs and the room smells distinctly of bathing oils. Not that this would be a problem if Slade didn't stand beside her, shirtless. "I said in a minute", he growls at me. That guy has a nerve!
"Oh, I'm sorry, you weren't finished here?" Who does he think he is? And why isn't Moz in some other room, sleeping or resting or something? Is she so impatient to show her gratitude? She seems oddly sweaty and absent, maybe I should have gotten in here earlier. But then I wouldn't know Slade for the guy he really is and still believe some decency to be left in him.
"You know, after you knock, you usually wait until someone asks you in", he has the nerve to reply.
"That was very unpolite of me", I answer in my sweetest voice, while considering to shoot him with a zapper from four different angles, depending on what would hurt that most. "So, after you helped a girl you've known for less than an hour into the bathtub and you're taking your clothes off while she's already on your bed, what would be a reasonable reaction for me, in your opinion?"
Slade just stares at me in disbelief. "What??"
Moz looks up, a disgusted look on her face. "That's just sick!"
Slade stares at me for several seconds, then he starts to laugh. "So Ruby didn't tell you."
"Tell me what?"
Still laughing, he looks at Moz, who just rolls her eyes. "Madeline is my sister!"
It slowly dawns on me. "Madeline?"
Moz raises one bruised hand to gave me a sarcastic little wave.
I don't know what to think or do about Slade's notorious sister. For a minute there I thought I had figured him out. The way he seemed to understand, about me, Java and Siva. He has a lethal sister too, it was as simple as that.
But seeing him now, the way he takes care of her, brings her food, takes her into his and Ruby's unavoidable future family construction by asking his ex to give Moz – Madeline – clothes… it all falls into place, and this time it's less simple.
Moz used to remind me a lot of myself, when I first met her. A raw, less sophisticated version of myself, of course. She was useful, predictable and she had contacts and talents I could benefit from. And she could tell that to Slade any minute she wanted. Tell him, how I worked with her against my own Tribe. How we pretended the Guardian was dead to kick a highly pregnant woman out of the city. Pregnant, like Ruby, who he feels obliged to protect now she apparently tricked him into knocking her up.
What will it be like, dating Moz' brother? Sure, she might be a wrack now, but I've seen her in action. She could stand up tomorrow, get dresssed and bring a raging mob to Ruby's saloon, demanding Ram's head on a platter.
Family seems to be Moz' soft spot. Will she become friends with Ruby? Will this be it, Moz' weird talent to get girls into her ranks, to unite people in anger – is she even angry at me? I mean, I just freed her!
She could be angry, if she found out about my marriage to Ram, about Jay, about all the Mosquitoes I tried to take over, Dee joining the Mall Rats, working for Lex… Moz could have a lot of reasons to be angry, and if I remember right, her anger isn't always directed towards the cause of her problems. Often it's just the next best person that denies her something or breathes to loud.
Slade cowers on Moz' bedside. The expression on his face is different than anything I've ever seen before. He's not simply worried, he's terrified. Seeing his beloved little sister like that obviously caused some kind of wall breaking down. All the coolness, all the attitude is gone, he's just a brother concerned for his sisters well-being.
"Do you want some company?" I sit down besides the spare clothes and blankets Ruby has put onto the small couch in the room, put one hand on Slade's arm. "Do you think she's okay?"
"I don't know." Slade's voice is tired, but steady. "She's just… she looks so young, so vulnerable. Like that last New Year's day before the virus, when she had a fever after we went out onto the frozen river to watch the last fireworks from the city, like we did every year. It's the only time I've seen her sick."
"She's not sick", I throw a quick glance at Moz, when her breathing becomes uneven, but she doesn't seem to wake up. "I don't know if she got the chance to tell you, but we actually met before, we were opponents in the city leader election. When I won, everyone else would have been sulking, or hurt at least. But she didn't care, she just started working for me, since she couldn't beat me. If I've learned anything about your sister it's that you don't get rid of her that easily. She's a survivor. You know, in a weird way… I always thought, if the Technos didn't bring her away, we could've been friends."
Slade hasn't looked away from Moz' wounded face for a second. He seems so deep in thought that her words, that mix of truth and fiction I made up on the spot, remain unheard. He won't get to hear what he wants to hear tonight.
"I don't believe he would let them do this", he murmurs, more to himself than to me.
"You should get some sleep." I smile at him, when he finally looks up. "We both should. It was a long day. Your sister will be better tomorrow. Come on." I take his hand to pull him up. Take one quick look over my shoulder, when I close the door behind us. Moz is sitting up, her eyes wide open, staring at me.
"You know what, I forgot my jacket in there", she shakes off Slade. "I'll go back and get it."
Slade nods absentmindedly. He gives me such little attention today, that he didn't even notice I never brought a jacket into Moz' room. Not that I can blame him. If this was Siva, if someone left her in a state like this when she was alive, I would be devastated, too. The thought of Siva hurts, but I'm still well aware, that this isn't my nicer sister we're dealing with. Moz could be the worst thing to happen to me and Slade right now.
Moz seems to be expecting me. She has lit the reading lamp on Slade's nightstand, and seems to be much calmer than before. Her face is still pale, but her eyes are glowering towards me in the dimmed light. "He's gotta be kidding." That's all she says, but the look on her face adds a lot of emphasis to it.
"I assume you're talking about me and Slade." I sit down on her blankets, unsure what to tell her next. Moz has never been my enemy, and I've never planned to change that for obvious reasons. I remember vividly what she tends to do to her enemys. "Will you tell him to stay away from me? Because other people tried that and failed."
She's grinning now, and it's obvious that she faked to be weaker than she was from the start. "You're forgetting one simple detail about me, maybe you didn't get it yet."
"And that would be?"
"Slade's… not exactly reasonable when it comes to me. I know he's a player and this week you're the next best thing, I don't blame him. I bet you're great in the sac with all that pratice", she's laughing now. "Really, what did you think I'd do? Go all Italian family on you and tell you to stay away from him or else? You know, with a low, hoarse godfather voice. No, really. This'll be over by the end of the week. Only, if I remember right, you have a weird obsession with your exes. Or was that just the one?"
"Shut up!" I don't know if leaving the room or suffocating that bitch with a pillow would be smarter right now, I just know what'd make me feel a lot better. "You think you can turn Slade against me?"
"I could", she shrugs, inspecting her overly manicured nails casually. Wait, when did she do that? "But I don't think I have to. He'll have his fun and then he'll be on to the next girl. I give you six more days. Ten, tops. But that's not what I wanted to talk to you about."
"Then what is it? Scared I'll tell your beloved brother about our little arrangement in the past? You know what, I think I should. He seems to be really interested in your life, he should know."
"You can tell Slade what you want, he won't buy it"; Moz smile is almost tender, now that she talks about Slade. Her voice sounds affectionate, while it is still mocking me. "Try and tell him anything other than me being a victim and it'll backfire on you. Nobody will believe you, trust me."
I get up, turn to leave. Who cares what she wants to talk about? Moz never could win against me and she never will.
"By the way", I can hear her voice, the moment my hand touches the doorknob. "Killing Stephan was a clever move. I get why you did it."
"And why would that be." Is this more of her Slade-related nonsense or is she actually just glad a Techno died? Something doesn't seem right. Stephan… how does she know his name?
"You wanted to send a message." Her voice is as casual as it was the day she brought Ned to the Mall. Something about her kept me from liking her, apart from all the things we had in common. It was the way she didn't even mind a corpse in the room. How she only showed any emotion when Lex thought he could question her. The way she switched from wanting to kill the Guardian to Luke, Amber, Bray. Something…
She's smiling again, her eyes glittering in the half-dark. "Message received."