How did you get your name?
Uh? My Parents gave it to me? My mom made it up, so there's not really a story behind that.
What inspired you to get into the tattoo business, and what do you like best about it?
My uncles had full tribal tattoos, so I got into tattoos at a young age. Around my 13th I decided that I wanted to become a tattoo artist. The thing I enjoy most about it is that you create something for someone that they'll carry with them for their entire life.
Every tattoo tells a story, what does one of your say?
Well, this one I did when I was testing a new needle I made. I needed to come up with something, and this was something that fitted into the rest.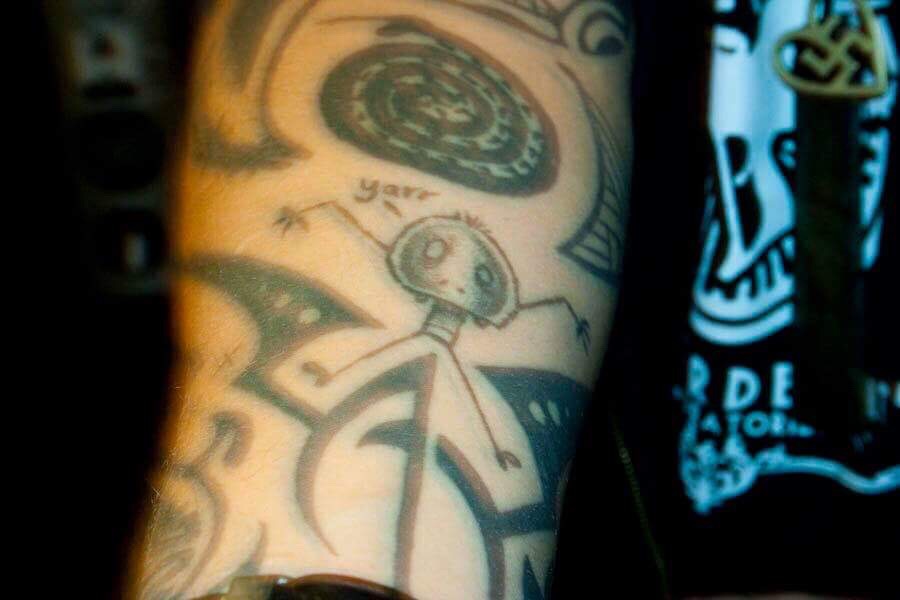 What have you been up to since the tribe and have you got any new projects coming up?
I've been busy tattooing for most of the time, I haven't really done much acting for a while, I only help out friends with some things if they ask really nicely
If you could star in any tv-series (past or present) what would it be and why?
I'm pretty sure that would have to be the new Battlestar Galactica. If I could be on that, that would just be great.
How did you get your role on Resevoir Hill; did you enjoy it and will you be in season 2?
That's a funny story actually. A very close friend of mine is a writer for that show, but since he was on the other side of the country we hadn't seen eachother in a year.
So we were trying to find a moment where we both had time which was kind of difficult because I'm working when he's not, and he's working when I had time off. At some point he asked if I could take a Saturday evening off and he'd work something out. He actually wrote me a character so we were able to spend some time together and catch up, which we did, after it was recorded. I said that I didn't want to get paid for it and that I wasn't going to sign any contract, cause that way they wouldn't be able to use me for ad(vert)s. But actually a while later, mom called me and said that she saw my face on TV which confused me, turns out they did use me in the ads for it. That was not cool, not at all, and I won't be coming back for another series.
What's one of your guilty pleasures?
Jilly Cooper novels. Once, I was staying at a friends place, and I was teasing her for having 4 of them. Then I was there all day while she was at work and I started reading one. By the time she got back I had finished the second book and, within a few days, finished the other two.
Were you surprised there's still an active Tribe community?
Yes I was actually, I really didn't know people where still watching it.
How did your family respond to your role in the Tribe?
They were very supportive of it, they were happy for me. My dad is in the entertainment business and I heard about the role through friends of his.
Originally I was auditioning for the role of Ram.
What was your favorite thing about playing Mega?
Working with James, we had so much fun. When we did the torture scene, James made me leave the room because I made him laugh too much when he wasn't allowed to.
And the scene where Caleb is bringing me to the cage with my hands cuffed behind my back, we had to do that over and over again, cause we both had to keep a straight face and Caleb kept tickling me.
Do you still keep in contact with other cast members?
Yes, with most of them. Actually, I'm going to see Matt when I'm in London, he recently became a father of a son. I keep contact with most of them, except for Georgia, she's too young.
Would you ever consider helping fans with a project? (Like Matt did for Fractured Alliance)
I would, if the others were involved as well.
How would you have liked to see Mega's character developed?
Well, if he had survived, he would probably have become a good guy because of Slade. I think they were really getting him to become a nice guy in the end. Also I was sure he would have started dating Trudy, they seemed to get along very well at some point, and I always had the idea it was heading in that direction.
If there had been a series 6, what do you think should have happened in it?
I think they would have started everything again, they where going to a new place, so they'd have to start from the beginning again.