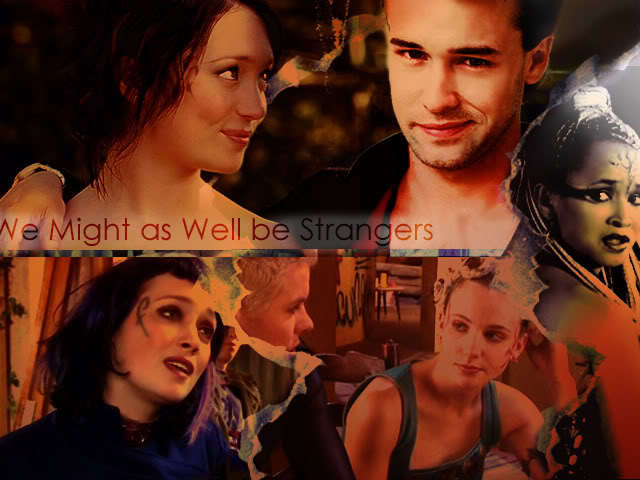 Written by: Nemesis
Title: We Might As Well Be Strangers
Era: Season 5, around 5x42
Pairing: Bray/Amber, Jay/Amber, Jay/Trudy, Bray/Trudy
WTF?? Yeah, no Broz in here, people. No Moz either. I think it was tribebohemian who convinced me how good two certain people might be for each other and I've become a believer. So, I thought I'd give it a shot. Enjoy

1. We Have A Past
It had been a long time, since Trudy had felt so lonely and yet so well rested at the same time. Her eyes got heavier, by just looking at the red hotel wallpaper, while the comfortable covers warmed her. She could have taken Mega's advice, gone for a walk. Talked about what was really bothering her. But if she'd start to talk, it would become real – as if the pain in her chest wasn't real enough already…
"Momma", Brady climbed onto the bed and played with some candy, while watching her tired mother with wide opened eyes. "Momma, look!"
"What, sweetie?" Was it this place? She just wanted to sleep. Sleep, and escape.
"Sweet!" Brady smiled, her eyes lighting up at the rainbow coloured lollipop in her hands, that were already sticky from the sugar bomb. Her tiny tongue tasted different parts of the lollo in a curious way, as if she wanted to test, if the green part tasted different than the red one.
"Where'd you get this?" Trudy was still exhausted, but her daughter having sweets out of nowhere awokened her parental instincts. Like an inner alarm bell that went along with "Don't even let her talk to strangers!" and "Avoid people in long robes, especially blue or white ones."
"My friend gave me", Brady replied, reaching out for the Teddy in a Techno T-Shirt she had gotten this morning. The lollipop dropped to the bed covers, where it slid down a few inches, leaving trails of blue sugar.
"Mega? Mega gave you this?" Trudy wasn't sure, whether or not to be relieved. To her amazement and horror, Brady shakes her head, her two blond braids flying through the air.
"Who then? Was it someone I know?" Maybe Jay came back, she thinks in wild, desperate hope. Maybe he saw his mistake and… who is she kidding? He'll never love her with Amber there! Trudy bites her tears back, tries to control the deep pain in her chest, as she notices Brady's watchcful eyes.
"I'm a princess", Brady whispers, leaning forwards to tell her mother.
A princess… Trudy has to smile at the thought. "Who said that?"
"My friend."
A dark, foggy thought creeps through the back of Trudy's head. Night, fire, light wind, blowing up the multi-coloured robes, and all their faces are looking up at her, the little baby in her arms… She smiles, falling into their chorus, bathing in their admiration, and if she just says it often enough, she will believe it, as they believe: "All power to Zoot – and to his Chosen victory!"
Trudy is on her feet, before she can think clear. "Brady, don't talk to strangers. Get your toy, we're leaving!"
Brady looks at her with big, innocent eyes, not even asking why. She's used to her mother being irrational and jumpy, Trudy thinks. She'll feel guilty about that later, right now she has to bring her daughter elsewhere, where she is far, far away from Technos and … worse people.
The hallways are deserted, but the security cameras are still blinking with red signal lights. Trudy avoids looking directly into them, keeps her head down, while her breath goes fast and panicy. Can't she ever catch a break?
"Trudy!" Mega catches up with her, trying to look casual. "You're leaving already?"
"No. No! We're just going for a walk. Brady misses the playground." She tries to smile at him, but feels that she isn't very convincing. "You're security is pretty high, right?", she can't stop herself to ask.
"I would hope so. Why?"
"So nobody comes in here without you noticing?"
"No."
"Are you sure?"
He looks suspicious now. "Why, what's going on, Trudy?"
"Nothing. It's nothing", she lies. "I'm just… since this whole Zoot business I feel a little jumpy, whenever I'm without Brady, so I wanted to take her outside, spend a little time in the sun, you know. I'm just a very precausus parent."
"Well, given your history, that's understandable." He waves at one of his men, to hold a door down the hall for him. "Wait a minute, let me just drop something off, then I'll join you."
"Okay." Her eyes follow him, as the door closes behind his back. Stay. Run. Stay. Run…
A hand closes over her mouth and pulls her towards the next dark corner. She wants to scream, but the grip around her torso is strong and she feels frozen in shock, all the fear hammering through her veins, red lights in front of her eyes. Run!
"Trudy!" The voice sounds so painfully familiar, she doesn't dare to open her eyes. "Trudy, it's me, it's all gonna be alright, I'm here now!" She blinks, feeling new tears welling up, as their eyes meet. "I'm your friend, remember?"
Her hands are shaking, as she touches his face, and a dreamy Brady is shaking with her.
"Is it really you?", she whispers, staring into the same blue eyes she has dreamed about for almost her whole teenage life. He just smiles, and it's like a mountain of rocks rolls from her heart, as if she can finally, finally breathe again. Her arms fly around his neck, and she buries her face in his neck, while Brady is almost crushed between them.
"Do you have more candy?", she asks, pressing her little fists into their chests to have some room to breathe again.
"Sorry, beautiful", he smiles down at her, stroking her blonde hair. "What did you do with the one I gave you?"
"What are you doing here?", Trudy can't stop the tears from running down her smiling face now. "We – we thought you were dead, they had documents about all the deleted people and you were in there…"
"I know, I found it, too. Listen, Trudy, we have to leave now. Are any of your friends in here?" He seems so controlled, so calm. Her rock. She just wants to hug him and never let go. Everything's going to be good now…
"No, just Mega's people. Why?"
"Good. Let's go!"
"Bray, what's … wait, what's going on?" She struggles to keep up with him, even after he takes Brady. Mega must come every minute… that's got to be it! Mega! Bray was a prisoner of the Technos, if he was here, that means he must have just escaped them!
"You're right, let's run!"
Bray gives her an encouraging smile. "Hold tight, Brady!", he tells the little girl and starts to run. Trudy grabs his hand, to hold on to him. Feels their fingers interlock, as she hears the explosion.
"Get behind me!"
She doesn't ask questions, she just does what he says. It's Bray, it's just Bray, everything's going to be alright… When she opens her eyes again to look over the wall Bray has dragged her behind, she can barely see the hotel in all the smoke. There's fire, high, toxic flames and the smell of burned plastic everywhere.
"What just happened?"
"I don't know." Bray squeezes her hand. "Trudy, we have to get away from here as fast as possible!"
The little sidestreets are full of dirt, old newspapers and used, random things lying on the streets. Bray seems very careful for noone to see them and Trudy can't help smiling, even though she is terrified and confused, at the memory of him guiding her towards the Mall for the very first time.
"Bray, where are we going?"
"Home." He stops to look around a corner, pressing Brady closer to his side.
"Yes, but why…?"
"Do you see any cameras here?"
"No."
"That's why. Can't risk being seen after everything I did to get out of there. I'm sort of unpopular amongst Technos."
She has to smile, even though the picture of the explosion creeps back into her thoughts.
"What…?"
"You know me, I suck at this whole being a prisoner thing. Trust me, Trudy, I know the way around the cameras better than anyone else."
"Except Mega."
"Better than Mega, I just destroyed all his computer files on the system. This way!"
Their footsteps hall in the sewers, the cold, humid air filling the space up with the various smells that have never been very pleasant. A rat runs around a corner, fleeing from the humans and their big feet coming it's way.
Trudy looks at Bray, smiling.
"We made it." He returns her smile, hugs her.
"Do you remember…"
"Like it was yesterday." He looks around at the brick walls, the dirty water reflecting on the walls, moving, dancing. "Trudy, are you alright? You seemed upset back there. Did they do something to you? What happened?"
She musters his face. He has lost weight, seems more trained than before, but also rougher, colder. A scar on his temple looks like it comes from a serious wound, and his hair is shorter, the cut rough and badly done. He still has the same, calm look in his eyes, but she can feel that he has changed.
"You've probably been through worse", she decides to answer. "And we should go inside now. There's somebody you should meet. It's a boy", she adds, when Bray looks puzzled, seeing his eyes light up, like the first time he saw Brady. He's still Bray, she thinks, as she sees the trace of a smile forming around his lips, and he will be happy, even if she has to take care of it herself. If Amber and Jay… she has to protect him from this pain, he's been through enough already. But right here, right now in the sewers, where she first heard him tell her, that this was the safest place for them, that this would be their home, he seems to be happy. And that's the most important thing.
"I'm guessing from your face, I'm the first one to congratulate you."
He smiles at her, and this time, he seems sincere, no coldness, no hestitation, no sudden exits. "Thank you, Trudy."
She holds out her hand to him. "Are you ready?"