…aka Amber's new and latest obsession, this also means she thinks ALL fans of The Tribe should give this tv series a chance and watch at least up until episode 5.
Anyway, I started writing reviews/reactions and posting them when season 3 aired and g´have been trying to keep up with it, so you've been warned. If you aren't up-to-date with watching, there may be a few spoilers.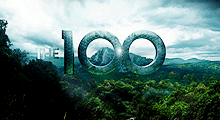 This TV series is about to air it's 3rd season and since I discvered that a year ago, I have fallen in iove with the characters and plot development. The first 3 episodes of the first season may be arguably a bit cheesy, but once you get past them, the storytelling and acting really picks up.
It may be my favourite tv series currently and it has a great deal of simiarities and character parallels with The Tribe.
Thanks to whoever it was (EagleMountainDreams? Sayerette?) for first mentioning Clarke is a lot like Amber, you got me watching and I was hooked.
It's fast-paced, with a considerable amount of gore, yes (wounds don't heal in a day, people's hair and make up is dirty/messy a lot, which, considering the iving conditions is a breath of fresh air for any post apocalyptic show) - but I somehow don't feel it's terribly overdone. However be prepared to see people die aka your faves might not make it. Don't get too attached.
This topic will hopefully provide a nice place to react to season 3 as it airs, so if you need to catch up first, beware of spoilers ;).
Remember how happy and hopeful everyone was at the beginning? sob Also, Octavia babe how I disliked you to begin with and how you and most of the characters proved me wrong. The only few who I haven't changed my opinion about, are Clarke (liked her and still do - despite of what she's done, or maybe even more because of a few things she's done and I am very intrigued to see her during season 3), Raven (instant "you show them girl") and Monty (he's just precious ok, no one better hurt him) - the majority of other characters has made my head spin (Bellamy! Abby! Kane even (let me love them all), Finn (what a joke) damn it. Murphy (love to hate him…there are moment where he almost redeems himself but then nah), even Jasper (beginning to lose the respect I had towards him).


THE 100 MEME
The character I first fell in love with:
The character I never expected to love as much as I do now:
The character everyone else loves that I don't:
The character I love that everyone else hates:
The character I used to love but don't any longer:
The character I would totally smooch:
The character I'd want to be like:
The character I'd slap:
A pairing that I love:
A pairing that I don't: